Innovative NHS partnership expected to reduce waiting times for patients this winter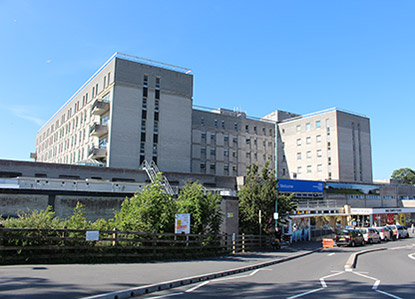 A pioneering 18-month pilot, which forms part of our preparations for winter, will see orthopaedic treatments being carried out away from Derriford Hospital in the nearby Peninsula Treatment Centre .
The NHS Plymouth Orthopaedic Partnership (NHSPOP) will see elective orthopaedic treatments being undertaken by a joint team of surgeons and anaesthetists from Care UK and Derriford Hospital. The partnership will reduce waiting times for less urgent operations – such as hip and knee replacements – and virtually eliminate waits of more than 52 weeks.
University Hospitals Plymouth NHS Trust has a better-than-average length of stay for orthopaedic trauma patients. However, providing this service also adds to the pressures on the elective service – with elective care often cancelled to allow for trauma surges. Last winter saw the hospital temporarily convert the planned orthopaedic ward to use for general medicine to cope with the increase in medical patients.
While this increased the number of seriously ill people treated, it meant that orthopaedic patients needing less urgent treatment waited longer, with as many as a third waiting more than the 18-week Government target.
The partnership with Care UK, the UK's largest independent provider of health and social care, will see emergency orthopaedic care separated from planned work.
The move is also expected to improve performance of the our Major Trauma Centre and increase the efficiency of operating theatres – providing knock on benefits for other specialties including neurosurgery.
Ann James, Chief Executive at University Hospitals Plymouth said: "Winter is always a challenging time for the NHS and we are constantly looking at innovative ways to address patient demand.
"Using a trusted independent health provider to create additional capacity at times of high demand ensures that patients are not kept waiting longer than they have to, often in pain.
"With the existing treatment centre less than a mile away Care UK is uniquely placed to provide the service and the only difference that patients should really notice is that they are now being seen more quickly."
The partnership is a first for the Trust and will see it work with Care UK to recruit and train staff. A joint clinical board including NHS consultants will oversee arrangements.
Jim Easton, Care UK's chief executive, said: "We are really excited to be working so closely with UHP in an innovative partnership to combine expertise and resources to benefit local people.
"Services will remain free at the point of delivery and the project will allow UHP to focus wholly on prioritising high-quality care during the busy winter period"
The pilot begins in November, 2018.
Peninsula NHS Treatment Centre was the first hospital of its kind to be rated 'Outstanding' by the Care Quality Commission.