Hospital at Night – why I am excited about our digital future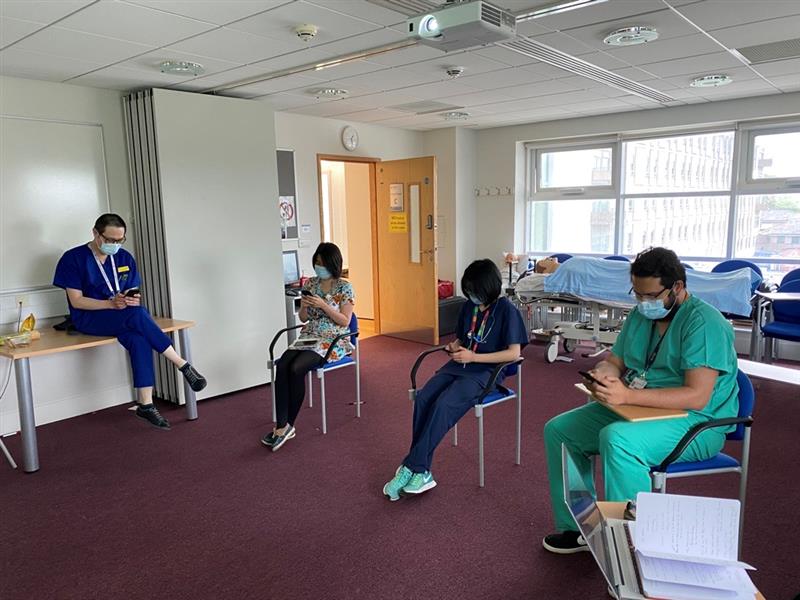 We have already embedded some major digital projects in the organisation of late, but we are about to embark on some real game changing solutions in the coming weeks and months. Paul McArdle, Deputy Medical Director here at UHP tells us about why he's excited for what lies ahead…
For years we have been planning and working on how we make sure the people we look after get great safe care, every time.
The next part of our plan involves our digital transformation programme. In the very near future we will be taking our next steps as we integrate the next digital system into clinical practice – Nervecentre: Hospital at Night.
The Hospital at Night system is a mobile hand held system that will give staff a great oversight of the night shift, from 20:00 to 08:00, it will affect all our staff working on the wards, our Acute Care Team colleagues, and our doctors.
It will highlight where our patients are, what's happening to them in real time, and for staff to be made aware when things are not quite right with the patient.
We know just how important it is to spot when a patient is deteriorating on a ward so we can make early, timely interventions before they deteriorate further, and to get the right staff rapidly to the situation to help deal with any problems that arise – and that is Hospital at Night in a nutshell.
For staff this should be a more effective, more efficient way of managing patients, and our patients should experience better, safer, high quality care. It will also help manage workflow making sure the right people know what we need to get done as efficiently and effectively as possible, taking into account how busy people are.
If I was to say anything to our staff right now it would be to embrace it and engage with it. This is definitely going to be the way forward. Inevitably there will be bumps in the road as we all get used to it, but I really think this will offer much to our organisation and to our patients.
How can you get involved?
To make sure the system really works, and does what we need it to, we need to make sure we get our staff to help design how it works in practice. That way it will do what we need it to. As with all systems we need it to support the work you do, make it easier to do the right thing and to help you to be able to react flexibly when any situation demands it.
So, please look out for adverts when we are asking for volunteers to get stuck in to testing and design phases and come and join the team in this really important work.
What can staff expect across the next year of our digital transformation?
Over the next year we are going to see lots of digital change being embedded in the organisation.
The electronic pharmacy system (EPMA) programme has already been successfully rolled out into the majority of the organisation. On Wednesday 07 July, following months of preparation, and a lot of hard work and effort from everyone involved, the Emergency Department (ED) transitioned from paper drug charts to EPMA. This will bring many benefits, including reducing the risk of errors or near misses when the patient is transferred to an inpatient area. This practice may take some time to embed, so we ask any area that receives a patient from ED over the coming weeks to keep their eyes open to make sure the patient has been prescribed all the drugs they need and should be on just in case the patient has had any prescriptions made on paper or any medications that haven't been fully reconciled.
I'd also like to take this opportunity to say a massive thanks to all the staff who made the EPMA go live such a success on the day. Amazing, considering just how busy we have been in ED and in the hospital, as well as the other numerous potential road blocks along the way. Everyone held their nerve, there was great leadership and because everyone worked together it got done.
And finally…E-Observations
The next big project a following the EPMA and new ED operating system introduction, will be the introduction of the e-Observations mobile safety system rolling out right through the organisation through all the wards. It will affect many of the ways that we work providing clear higher quality information about patients, useful reminders, and will help encourage best practice in the care of every patient to mention but a few of its attributes. More information on that coming soon…
Look out for it, it will be coming to a place near you.