Focus on making mealtimes matter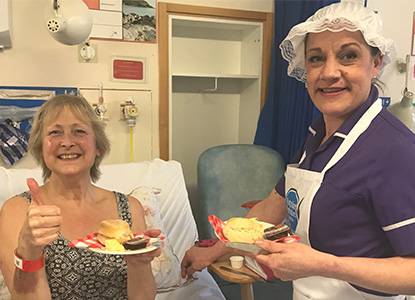 Teams at University Hospitals Plymouth are working together to promote and celebrate improvements in nutrition and hydration.
Nutrition and hydration week (from Monday 16 March 2020) is an annual event focusing on making mealtimes the best they can be for patients' recovery.
Tanya Mullin, Food Services and Corporate Dietitian for the Trust, said: "Malnutrition is a major public health issue costing the NHS over £19.6 billion per year in England alone. It affects 25% of people admitted to hospital, can result in 82% more hospital admissions and 30% longer hospital stays.
"Malnutrition can often go unnoticed as the symptoms are subtle. It's important to note that people of any size or shape can become malnourished, including those who are overweight or obese.
"We work very hard to ensure we provide the best care to meet the nutritional and hydration needs of our patients here in Plymouth and we're looking forward to this week of education and celebration."
The week includes a range of educational, fun and tasty sessions across the Trust. Expert nutritional advice will be promoted by dietitians and there will be the opportunity to learn about swallowing difficulties from the Speech and Language Therapy (SALT) team. Patients will also have a cream tea as part of the global Nutrition and Hydration Week tea party.
Trust staff served over 70,000 meals to patients during February 2020.