Two New Non-Executive Directors Appointed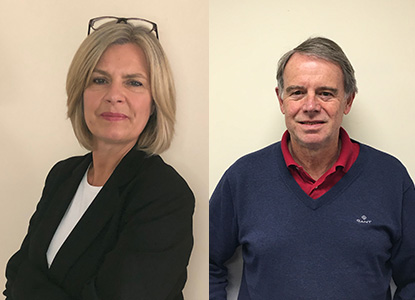 NHS Improvement has appointed Valerie Lee and Alastair Camp as new Non-Executive Directors at University Hospitals Plymouth NHS Trust, with effect from Monday 6 April 2021.
Non-executive directors (NED) are members of the board of directors who scrutinise the performance of the executive management in meeting agreed goals and objectives. Unlike the executive directors, they do not have a managerial role within the Trust.
Trust Chairman, Richard Crompton acknowledged the appointments by saying: "Both Valerie and Alastair bring immense experience to the board, both from the private sector and previous non-executive roles. They join us at a particularly challenging time for the NHS and I look forward to working with them both."
Valerie Lee
Valerie brings extensive commercial experience from a career in a variety of functions in leading UK retailers and consumer companies, including Somerfield, Debenhams, Boots and Clarks. Valerie studied Economics at Warwick University and has a post graduate diploma with the Financial Times. Valerie has a deep understanding of consumer marketing, as well as experience in strategy development, business transformation and property management.
In addition to her role at the Trust, Valerie works with a number of other organisations that strive to improve the health and wellbeing of local communities across the South West. She is Chair of Sphere Leisure, a subsidiary of Circadian Trust which operates leisure centres on a not-for-profit basis and she is also a Non-Executive Director of two housing associations, Plymouth Community Homes and Selwood Housing Group.
Speaking following her formal appointment, Valerie said "I am honoured to be appointed to the Board at University Hospitals Plymouth as I grew up in the area and have lived in the South West for most of my life. I am committed to listening to and collaborating with service users, carers, staff and other stakeholders as we collectively work to meet the needs of the diverse communities that we serve and make the Trust a fantastic place to work where colleagues can flourish."
Alastair Camp
Alastair has been involved in the NHS for over 14 years, initially as a Non-Executive Director and Chair of the Tower Hamlets Primary Care Trust in East London, and then as a Non-Executive Director of Barts Health NHS Trust, which runs five hospitals in London, including St Bartholomews and the Royal London.
His wide commercial experience has included a long business career with Barclays, which included leadership of a number of significant businesses in both the UK and overseas. Alastair lives with his wife on the edge of Dartmoor and knows Plymouth and Devon well.
Alastair is a Justice of the Peace and currently chairs the South & West Devon Magistrates Bench. He is also a trustee of the China Fleet Trust, a local charity based in Saltash which provides hotel and leisure services for the benefit of serving and retired members of the Royal Navy and Royal Marines. In his spare time, he enjoys travel, history and local heritage, and getting out and about in the wonderful countryside that Devon has to offer.
Speaking following his formal appointment, Alastair said "I am greatly looking forward to joining the terrific team at University Hospitals Plymouth and contributing to the fantastic care they provide to people in Plymouth, Devon and Cornwall.
"This past year has only served to emphasise how important the NHS is to all of us. I am keen to contribute my experience both in and outside the NHS to the Trust's work and to working with the team to ensure that we deliver world-class healthcare, clinical outcomes and patient experience to all those who depend on our services."
Non-executive Director appointments to NHS Trusts made by NHS Improvement are subject to the Code of Practice of the Commissioner for Public Appointments.