University Hospitals Plymouth team are finalists in the Green Surgery Challenge 2021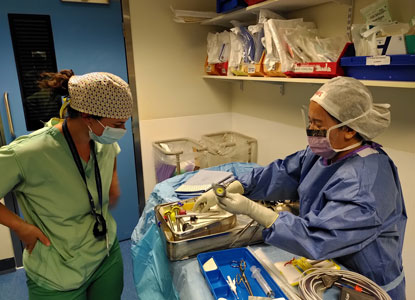 A general surgery team from University Hospitals Plymouth NHS Trust are finalists in the Green Surgery Challenge 2021, thanks to their project on reducing the consumption of single-use surgical equipment.
The University Hospitals Plymouth team were one of six teams chosen to take part in the nationwide competition, which is supported by sustainable healthcare specialists at the Centre for Sustainable Healthcare, with the intention of using sustainable quality improvement (SusQI) methodology to improve surgical sustainability.
Following the challenge launch earlier this year, the Plymouth team pitched the concept of sustainable healthcare principles to their colleagues and carried out a survey to identify the most commonly used single-use surgical instruments within general surgery at Derriford Hospital. It was quickly identified that disposable instruments were frequently used during laparoscopic appendicectomies in particular, and so the team conducted an audit to investigate this further.
"From surveying the surgical department we were able to identify the need to streamline the instrument set for laparoscopic appendectomies, by reducing the number of single use items added into the reusable set and switching to reusable ports," explains Mr Peter Labib, General Surgery Registrar. "We worked out that on average, we could avoid using around four to five items per surgery, and with around 500 appendicectomies being performed here at Derriford each year, that could translate to a saving of approximately 2,200 items per year."
In order to address this issue, the project team researched, costed and procured reusable instruments, in addition to modelling both the environmental and financial impacts of the change. As a result, they proposed a revised laparoscopic appendicectomy procedure set that includes reusable replacements for the single-use items commonly being used. The proposed amendments to the instruments would not only significantly reduce the carbon footprint, but also the financial cost of the procedure – the exact amounts of which will be revealed at the awards ceremony.
Peter adds: "In today's society, we are all becoming more conscious of improving sustainability, whether that be how we travel to even what we eat. So it is really important that we look to address the issue of sustainability in our working lives too, and ultimately theatres are three times more energy intensive than anywhere else in the hospital, so it makes sense to start here."
Kirsty Wavish, Green Plan Programme Manager, said: "This is a fantastic project and showcases just what can be done when teams come together to evaluate the sustainability of their daily working practices. The Trust, in its Green Plan, has committed to reducing the Trust's carbon footprint by 20% by 2025 (and work towards net carbon zero by 2030). The reduction in single use items will greatly contribute to the success of achieving this target. Projects like this have also inspired other areas to re-evaluate their single use items and consider how sustainable their daily practices are so that the Trust can continue to deliver high quality care whilst reducing reliance on non-renewable resources and seeking sustainable alternatives."
Peter and his colleagues, including Dr Bryony Ford (Foundation Year 2 doctor), Michelle Winfield (Senior Sister and Clinical Procurement Specialist), Aditya Kanwar (Consultant Hepatobiliary Surgeon), Grant Sanders (Consultant Oesophagogastric Surgeon) and Walter Douie (Consultant Colorectal Surgeon), will be presenting their project at the virtual Green Surgery Conference being held on Thursday 4 November 12:00-14:30. The winners will be announced following a decision by the live judging panel at an integrated awards ceremony, as well as the impressive carbon impact of each project.
The conference is being co-hosted by the Centre for Sustainable Healthcare and the Royal College of Surgeons and registration is free for all to attend. Delegates will have the opportunity to meet the teams involved in the challenge and to discuss their projects in more depth, as well as networking with other members of the surgical community interested in sustainable surgical practice.
To find out more about the conference and to attend, please click here.
To find out more about the Plymouth team's project, "Maximising reusable surgical instrument use, including laparoscopic ports, for a sustainable appendicectomy pathway", please click here.
To find out more about the Green Surgery Challenge, please click here.