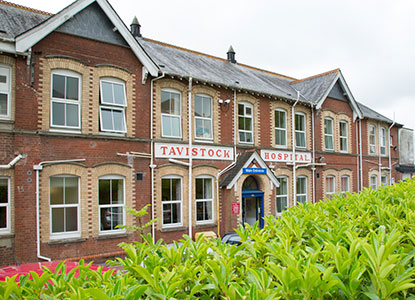 *Updated: 27/01/20*
Tavistock MIU (Minor Injury Unit) Reopens
The Minor Injury Unit, based at Tavistock Hospital, is open Monday to Friday (08:30 - 17:30) to treat you if you have an injury which isn't life-threatening, but still requires urgent treatment.
The drop-in unit is run by experienced nurse practitioners who have undertaken specialist training and are able to assess, diagnose and treat patients of all ages.
Examples of the problems they can see:
Cuts - we can use glue, steristrips (paper stitches) or sutures to close wounds
Small burns or scalds
Bites and stings
Sprains and certain fractures (upper and lower limbs)
Minor head injuries
Infected wounds
Foreign bodies in eyes
The unit also has x-ray facilities available
The intention is to return to a seven-day service later in the year when the team has fully embedded the service.
By using other services where safe to do so and keep our Emergency Department for emergencies.
When to use the Emergency Department: Please use our Emergency Department if you think you or a loved one have a life-threatening condition such as a heart attack, stroke, become unconscious, have difficulty breathing, or have a significant blood loss.

NHS 111: If you urgently need to see a GP when your surgery is closed and it can't wait until it re-opens, call NHS 111. NHS 111 can put you in contact with the GP out-of-hours service, which can arrange for you to see a healthcare professional in evenings & at weekends. NHS 111 is available 24 hours a day, seven days a week, and is free to call from landlines and mobile phones. It includes a full range of health services, including doctors, community nurses, emergency dental care and late opening chemists. NHS 111 is also online at 111.nhs.uk.
Minor Injuries Units: If your injury is not serious you can get help from a minor injuries unit (MIU) rather than go to the emergency department. You will be seen by an experienced nurse, without an appointment. X-ray is available at some locations. More info here https://www.plymouthhospitals.nhs.uk/miu

Use e-Consult: Patients in #Devon are now able to consult their GP from home using e-Consult when surgeries are open

Visit your local pharmacist: If you have a minor illness or ailment then visit your local pharmacist. They can help with expert advice and over-the-counter remedies. If you're suffering from a cough or cold, visit your local pharmacist, they can help you choose the right medicine. You can speak to your pharmacist for confidential expert advice and over-the-counter treatments for a wide range of common illnesses and complaints, such as stomach upsets, allergies, water infections, sticky eyes, cuts, nappy rash, skin conditions and coughs and colds. https://www.nhs.uk/service-search/find-a-pharmacy/

Have your flu jab: If you have a long term condition, care for someone, or are pregnant please make sure you've had your flu jab. #flufighter
Repeat medication: If you or someone you care for requires repeat medication, make sure you have ordered and collected any prescriptions before they run out. Contact your GP practice as soon as possible to organise prescriptions.

Collect relatives and loved ones as soon as they are ready to leave hospital. This frees up beds for patients coming in as emergencies.

Handiapp: Unsure what to do when your #child has a #high #temperature? Get expert advice by downloading the free #HANDiapp