Caitlin's double act of kindness benefits hospital ward where her Mum was treated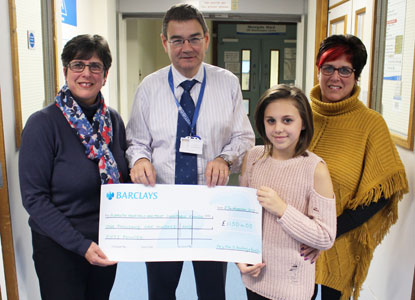 A young girl from North Cornwall, who raised more than £1,000 by having her hair cut, for the Derriford Hospital ward that helped her mum recover from a brain tumour, visited the hospital earlier this week to officially hand over the money raised.
Kind-hearted Caitlin Bosley presented the cheque for £1,150 to Mr Peter Whitfield, Consultant Neurosurgeon, outside of Moorgate Ward, alongside mum Diane and auntie Carolyn, as a thank you for caring for her mum.
Diane was diagnosed with a large brain tumour a year ago and subsequently had surgery to remove the benign growth. It has taken her time to recover and she is slowly returning back to work. Diane wanted to do something to show support to the team who treated and cared for her. She set out to walk the Ten Tors of Bodmin, however, as the time grew closer she didn't feel fit enough to undertake the gruelling walk.
This is where, 12-year-old Caitlin stepped in to help by having nine inches of her long locks chopped off, which she donated to The Little Princess Trust.
"Out of the blue Caitlin said she wanted to raise money for charity by cutting her hair. She loves her hair and whenever she needed to get it trimmed she wouldn't let us touch it. Yet, within three days it was decided, done and dusted!" proud Diane describes. "I am so proud of Caitlin for what she did, she has raised a fantastic amount in such a short time."
"As a father of two daughters I know how much time young ladies spend worrying about their hair!" said Mr Whitfield. "We are so grateful to Caitlin for bravely undergoing such a major haircut for charity. The donation and fundraising activities of the Bosley family are much appreciated and will go toward developing the services and care we offer for patients with neurosurgical conditions, including brain tumours."
This is not the end of the family's fundraising endeavours for Moorgate Ward. Diane is still determined to take on the Ten Tors challenge next year.
If you would like to find out more or to help fundraise for Plymouth Hospitals NHS Trust, please visit: http://bit.ly/PHNTfundraising