The Easter bunny pays a visit to our children's wards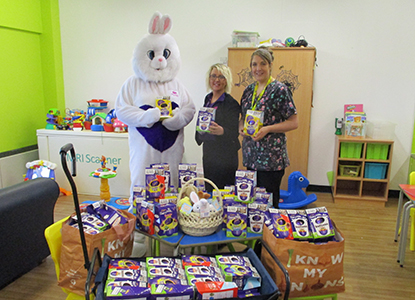 The children's wards at Derriford Hospital were paid a visit by the Easter bunny last week, just in time for the bank holiday weekend.
In the run-up to Easter, a number of local groups and organisations made very kind donations for young patients staying with us, and we'd now like to thank them for their generosity.
In no particular order, a big thank you goes to Mark Clancy, Dale Burgess and Poppy, one of our regular patients, who wanted to bring smiles to fellow young patients by bringing in Easter eggs.
Chocolate goodies were also donated by JAH Electrical Services Ltd, Express Diagnostics, Nomenca Limited and Crown Securities, as well as Lloyds Pharmacy in Devonport, who raised funds via a community raffle.
And finally, we'd like to thank care agency Next Generation, for not only bringing in a large number of Easter eggs, but for also bring the Easter bunny with them for a visit!
Sue Rodgers, Play Service Team Leader at Derriford Hospital and Fundraising Co-ordinator for the Children's Happy Hospital Fund said: "We distributed the eggs across all the children's areas in the hospital and it was clear that they brought a lot of happiness to our patients. We'd like to thank everyone for their kindness."
To find out more about how you can fundraise or make a donation to University Hospitals Plymouth NHS Trust, please visit https://www.plymouthhospitals.nhs.uk/fundraising