Second wellbeing room opens for staff at Derriford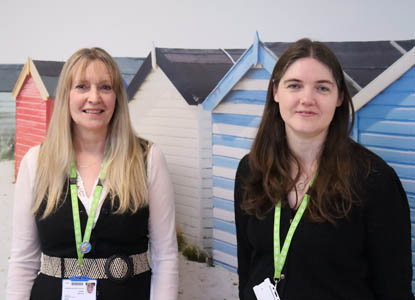 A second wellbeing room for staff at University Hospitals Plymouth's Derriford Hospital has opened. Following the success of the first wellbeing room, an additional space has been opened for staff to have a place to relax and take a break.
Sarah Hamley, Site Services Administrator and Sylvia Piper, Space Utilisation Manager designed the room. Reflecting on the success of the first wellbeing room, Sarah said "The space was so well used, and we got so much positive feedback from staff, we realised how important these spaces are for staff to have five minutes away from their wards and breathe".
The pair designed the space to be beach themed, with a beach hut mural and skylight. Sarah said, "Ever since we worked on the first wellbeing room we've been itching to create a costal themed room, the beach is my favourite place to be as a Plymothian". Sylvia added: "We wanted to bring the theme of our costal city into the hospital and create a brief escape from the clinical environment".
The room offers tea and coffee making facilities, with microwaves and comfortable seating. Ann James, Chief Executive, praised the space as a place for staff be able to "Sit and take a moment to be able to decompress". She praised the team and Mental Health Champions' hard work to create such a "beautiful and tranquil" space.
The space was also designed to be a breakout room for departments such as Hotel Services who do not have a designated break space. Sarah said, "We went for lots of dining tables and comfortable seating to make a practical space for staff to take a break". Sylvia said: "We designed this space to be more of a social environment, that way the wellbeing room on level 5 could remain a quiet space for staff to enjoy".
You can find the level 6 wellbeing room to the right of Warrens on the main concourse, the entrance is next to the Hotel Services Operational Office.