Couple organise fundraiser and donate camp beds in memory of baby Fred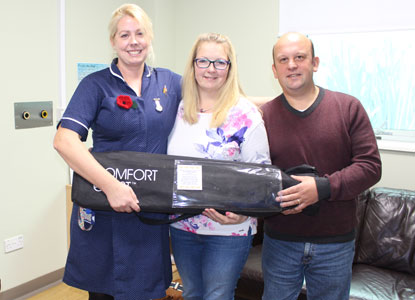 Kind-hearted couple, Joanne and Colin Smith from Liskeard, will host a Christmas Fayre this weekend, in memory of their beautiful baby boy, Fred, with money raised going to the maternity unit at Derriford Hospital to support parents and families with bereavement.
Fred Neale Smith was sadly born too soon in July of this year. Breathing for an hour and a half, in the arms of his parents, he then went to sleep with the angels.
Despite their devastating loss, Joanne and Colin wanted to do something to say 'thank you' to the staff in the maternity unit at Derriford Hospital for the care and support they received. Last month they returned to the hospital to hand over a donation of camp beds to be used by partners who are able to stay overnight.
"The care and support from everybody has been outstanding," expressed Joanne. "We just want to give something back and help others who are going through the same as what we have been through."
Following a long journey, Joanne and Colin found out the exciting news that they were expecting earlier this year. They'd just had their 20 week scan, with no signs of problems, and finally felt ready to share news of their pregnancy with family and friends.
However, not long after, Joanne started experiencing problems and it was identified that her cervix was opening too soon. With a risk of her going into premature labour, Joanne was admitted to Argyll Ward at Derriford Hospital and was under strict instructions for bed rest. Colin was able to be by her side the entire time.
"When Colin stayed they were going to find him a mattress to sleep on, instead of the chair in the room," Joanne explained. "However, there wasn't enough room for another bed. So he went out and bought a camp bed. It was just the right size to fit next to my bed and it meant that I could lower my bed and we could be at the same height and close together at this difficult time."
Sadly, despite Joanne following orders to remain on bed rest, Fred made his entrance into the world on Saturday 29th July at 8.38pm.
"Fred was born too early," said Kirstie Willis, Bereavement Midwife at Derriford Hospital. "Alex Allwood and Rachel Roberts [consultants at the hospital] discussed the next steps for Joanne, Colin and Fred and that was for him to be cuddled until he fell asleep. Joanne and Colin were then able to spend this precious time holding him and being together as a family."
"Fred lived for one hour and 38 minutes before going to sleep with the angels," added Joanne and Colin. "The midwives and doctors supported us and helped me to dress him, take fingerprints and photos. You have to find an inner strength. It's your baby and these moments are so precious."
The camp beds were purchased by the couple as a small thank you to the staff in the department, with one bed to be used on the ward and the other to be used on the labour ward.
On handing over the camp beds, the couple said: "It's the practical things that you don't necessarily think of but that can make a big difference, especially at times like this."
In recent months, the couple have been working hard in their spare time to organise a craft fayre in the Dobwalls Memoria
l Hall to be held this Saturday (9 December), between 10am and 4pm, with 26 stalls selling handmade crafts, including jewellery, Christmas decorations, wooden boxes. There will also be face painting, a 'guess the weight of the cake' competition, amongst other activities. More information can be found on the Facebook page: https://www.facebook.com/BabyFredSmith
The couple don't intend to stop there with their fundraising efforts, with a quiz night and plans for a dog show in the Easter break all in the pipeline. They have already raised £400 from a Tractor Ploughing and Working Day.
"We'd like to say a big thank you to Joanne and Colin for their very thoughtful donation of the camp beds, which I know will be welcomed by those who need to use them. We're also extremely grateful of their generosity to hold fundraising events to help support others," added Kirstie. "Sadly, baby Fred was born too soon but together Joanne and Colin are going to ensure that his memory lives on."
If you'd like to get involved in raising funds for Plymouth Hospitals NHS Trust and/or to find out more about the funds raised, please visit: http://bit.ly/PHNTfundraising