Global Recycling Day 2023
As we approach this years Global Recycling Day on 18th March, it's important to highlight just how imperative recycling is across the globe. Of the earth's natural resources, we tend to think of six as the most important: water; air; oil; natural gas; coal; minerals.
These resources represent our entire existence on the planet and today, we rely on their resources for food, hydration, power, clothing, technology, transportation – the list goes on and on.
But we are consuming these resources at an alarming rate which is having a detrimental impact on the environment. And once they're gone, they're gone forever.
Some key facts about our use of natural resources are as follows:
In 2017, we used a year's worth of the earth's natural resources in just seven months.
The Food and Agriculture Organisation of the United Nations predicts that, by 2025, 1.8 billion people will be living in regions with absolute water scarcity.
Global coal demand will exceed supply in an estimated 114 years.
Every year about 18m hectares of forest – an area the size of England and Wales – is chopped down. In just 40 years, possibly 1bn hectares, the equivalent of Europe, will be gone.
Every year we extract 55 billion tons of bio-mass, fossil energy, metal and minerals from the earth.
And in terms of waste, every year, globally, we dump a massive 2.12 billion tons of waste. If all this waste was put on trucks, they would go around the world 24 times. This is why it's key that we recycle everything we can and consider recycling as a SEVENTH resource, imperative to our planet and a sustainable future, and an integral part of the climate change cycle.
Each and every year, recycling saves over 700 million tonnes in CO2 emissions, and is projected to save over a billion tonnes of CO2 emissions by 2030. Some other facts:
Approximately 1.6 million people worldwide are employed in processing recyclables
Austria recycles 63% of its used products every year, compared with 45.7% in the UK (2017)
Man has been melting and re-melting metal since 700BC
91% plastic created are not recycled
Aluminium cans can be recycled and put back on the shelves in stores in just 2 months
Every contribution, however, small has helped and will continue to do so, as together we fight to reduce global pollution for a sustainable future. For some ideas about how to be a Global Recycling Citizen, visit Global Recycling Day.
We all need to take action to make our world a better place and recycling is a key way to help.
For UHP staff, why not let us know what you are doing on our staff sustainable behaviours engagement programme Choosing Greener, and take part in some of the recycling activities such as making a plastic pledge, letting us know when you've used a sustainable alternative, and letting us know if you identify an opportunity to reduce waste and plastics at UHP.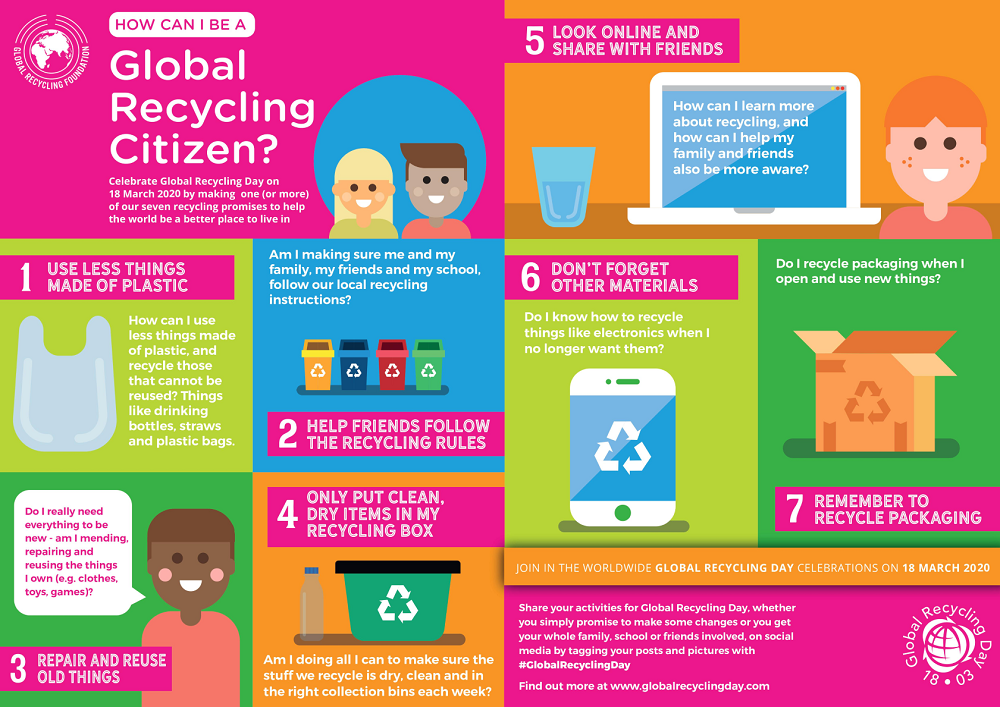 Sources: WWF and Global Footprint Network, B Knowledge - Imperial College Business School, Global Forest Watch, OECD Environmental Outlook to 2030, Bureau of International Recycling, https://www.globalrecyclingday.com/